2002 Tour to Noah's Ark!
Click on pictures for larger photo.
View of Istanbul from the Hotel Obleisk - From Lake Van airport to Dogubayazit

The infamous Hotel Ararat in Dogubayazit - (L to R) Driver Ahmet and Guide Zafer take us to Nuhun Gemisi.

Nuhun Gemisi is translated Noah's Big Boat - Are we a little bit excited?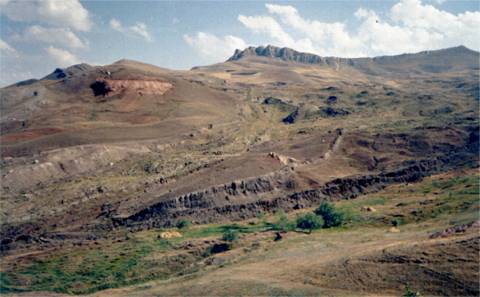 Noah's Ark! - click link for 1989 Photo from Ron Wyatt.

Almost the same view I first saw in 1960 in Life magazine. - At the Visitor's Center

with Hasan Ozer the official caretaker of Noah's Ark for the Turkish Government.

Hasan tells us about the light that was over the site before the first ark hunters came.

From the door of the Visitor's Center looking toward Uzengili, a village of interesting origin!

Starting the long trek to the remains - An unnatural formation

Notice of the discoloration on the side of the formation

Closer examination reveals uniformly straight line cracks at even intervals on this side.
"The detractors call it the boat shaped object. I find that an apt description of a boat." (David Deal)

I wonder what caused this unusual shape? - The sides are steep and getting higher!

The 1960 expedition blast hole once a few feet above ground level is now at around 15 feet.

Hey, look what's here; the remains of a bracket with a rivet in it.

Petrified coral found on the side at 6300 feet in elevation.
A smooth flat backside shows whatever this grew on was not natural.

On the bow of the great ship - From the bow you can see the Visitor's Center and Mount Ararat.

Deck joist on the starboard side - Corresponding joist straight across the deck on the port side!
(my watch is for scale)

Starboard side silent testimony to God's grace! - View from the Visitor's Center!

The prayer spire from in front of our hotel. We only got to enjoy the 4:15 a.m. call to prayer!

Baran, our liaison with the village children of Kazan, on the petrified bark seen on 20/20!

Ron Wyatt and David Fasold examined this ancient material for the cameras of ABC.

We found that crosses previously seen on this artifact had been recently damaged.

With one of the large drogue stones in the village of Kazan - More of the stones

We explore the possible remains of Noah's home - With Mehmet, an elder of Kazan, at the ruins.

Ancient stone fencing surrounding the area - The altar stone of Noah?

This large stone stands behind the ruins in a bowl shaped hillside.

Mehmet poses from the stone North of his village in the cradle of civilization.

The Ishak Palace - Dogubayazit is behind and Kazan is across the mountain range

Looking into the mountains behind the palace are fabulous ancient Uraturian ruins.

Postcards picked up at Ishak Palace - Note the different spellings of Dogubayazit

Early maps show the name of the city as Bayazit.

Turkey meets Iran - Our small but mighty group standing at the edge.




Video Tribute to Researcher Bill Fry

For information on Guide Zafer Onay