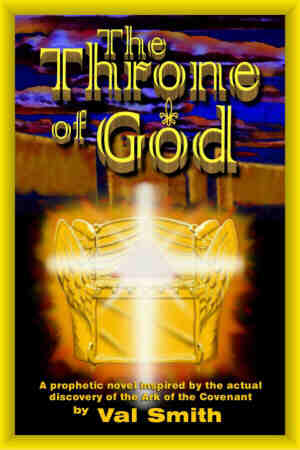 Inspired by the actual discovery of the Ark of the Covenant!
Now read the book online (below link)
"The Throne of God"
******************************
The Prophet Ezekiel tells of a great battle between a Russian-led Islamic alliance and the nation of Israel. It will end with the supernatural destruction of the attackers and resulting political elevation of Israel. Increasingly bolstered by current world events, how this scenario could quickly come about is the plot for the novel "The Throne of God."
The second most highly kept secret in the world is about to be revealed. The impending attack on Jerusalem by the largest military force ever assembled makes it a necessity. The Ark of the Covenant is brought forth and placed before the city. The results reveal the number one secret. Where it was found!

Follow along with the characters of this most momentous prophetic event for five days, before and during Rosh Hashanah, as they each move toward their own particular destiny with the Ark of the Covenant.

· An Israeli Defense Forces intelligence officer holds the key to it's recovery.

· An American Embassy liaison officer and his wife jubilantly facilitate finding its location, then suffer the ultimate loss.

· A Russian tank crew unknowingly battle their way to meet their maker.

· A General becomes known as Gog of Magog and plans to become savior of a revived Russian Empire and ruler of the world.

· Two angelic beings arrive on a terrible mission they have performed once before.

· A broadcasting team who prove the greatest story ever told.

It is a story of war and peace, ancient history and current events, love and loss, salvation and damnation.

Included, at the end, are scriptural references for further study on this fascinating subject and information on the discovery of the Ark of the Covenant and the Mercy Seat.